CASA DE LA SEDA
---
(Rehabilitación, reforma y ampliación de vivienda)
Murad García Estudio está finalizando las obras de ejecución de esta vivienda unifamiliar ubicada en la calle más antigua y noble de una población cercana a Valencia.
Una casa antigua es como una persona, tiene su propia historia. Se puede reescribir cada cierto tiempo, pero siempre sobre los cimientos, la estructura y la construcción original que constituyen su personalidad. El proyecto consiste en poner en valor esa personalidad, latente en todos los rincones del estado actual constructivo, abandonado desde los años noventa.
La Casa de la Seda nació hace más de 200 años. A lo largo de su vida útil ha sido transformada en varias ocasiones, desde casa palaciega con abundantes decoraciones, hasta almacén de productos agrícolas y explotación ganadera, incluido la cría de gusanos de seda para la obtención de tan preciada fibra natural, del cual recibe el nombre, en homenaje también a la tradición histórica valenciana de este tejido, reconocida en el recientemente inaugurado Museo de la Seda de Valencia, antigua desde del Colegio del Arte Mayor de la Seda, dedicado tanto a la producción de tejidos como al Gremio de Velluters.
La distribución comienza en la entrada tras franquear el gran portón de la calle. Se accede a un espacio único formado por vestíbulo, estar y cocina en planta baja del caserón principal, donde se mantiene la antigua chimenea y el aljibe-bodega del subsuelo, comunicado con el gran patio central, en torno al cual se distribuyen las habitaciones y sus vistas, así como varios elementos: el antiguo pozo de agua y sus acequias, el pavimento reconstruido de adoquín, y un gran árbol que tamice la luz del conjunto. En la planta alta está la andana o almacén bajo cubierta, donde en el último forjado ya desaparecido, se producía la seda, reconvertido en sala de juegos polifuncional.
Una vez atravesado el patio se encuentra el segundo bloque de la edificación, la cuadra-corral, ahora paellero-barbacoa, comedor y piscina cubierta con un potente lucernario que dota de luz. Todo ello junto a un antiguo lavadero del pueblo, descubierto enterrado bajo el olvido del tiempo a más de 2 metros de profundidad del terreno, que va a ser desenterrado y restaurado para uso y disfrute de quien quiera contemplar su indudable belleza.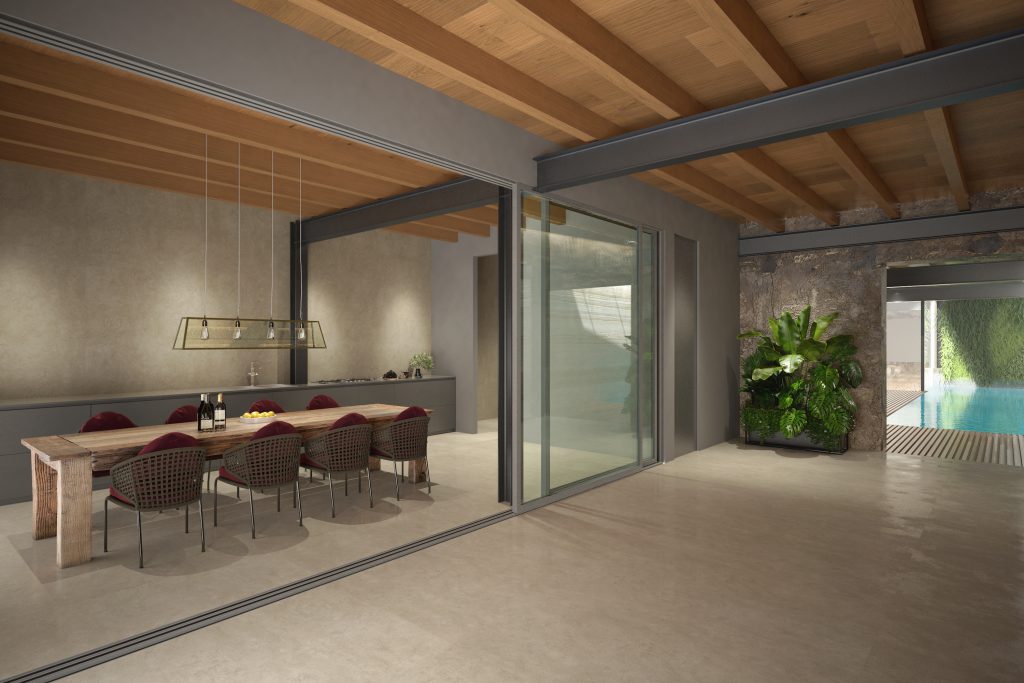 SILK HOUSE
(Restoration and renovation of an old house)
Murad García Estudio is finishing the execution works of this single-family house located in the oldest and most noble street in a town close to Valencia.
An old house is like a person, it has its own history. It can be rewritten from time to time, but always over the foundations, structure and original construction from where the personality rises. The project consists in highlighting this personality, you can detect it in all the space, abandoned since the 90's.
The Silk House was born about 200 years ago. Throughout its useful life it has been transformed on several times, from a palatial house with abundant decorations, to a warehouse for agricultural products and a livestock farm, including the breeding of silkworms to obtain such a precious fiber, from which it receives the name , also a tribute to the Valencian historical tradition of this tissue, recognized in the recently opened Silk Museum in Valencia, formerly from the College of Greater Silk Art, dedicated to both the production of fabrics and the Silk-makers house.
The walls are said to hear … in this case they talk. The original construction is so powerful that the project cannot be other than to value such a precious treasure, stripping the successive wall coverings to reveal the beautiful original brick or masonry factories, or the rough plastering. It will be enough to softly design light interventions to distribute the required projected rooms for its new people, all of them with similar noble materials, such as wood, seen steel, marble and other natural stones.
The distribution begins at the entrance after crossing the large wood gate on the street. There is access to a unique space consisting of a hall, living room and kitchen on the ground floor of the main house, connected to the large central patio, around which the rooms and their views are distributed, as well as various elements: the old water well, the reconstructed cobblestone pavement, and a large tree filtering the natural light. The upper floor, where the silk was produced, becomes a games room and a multipurpose space.
Once crossed the patio you arrive to the second block of the building, the stable, now paellero-BBQ, dining room and indoor pool. All this together with an old laundry of the town, discovered buried under the oblivion of time more than 2 meters deep from the land, which is going to be unearthed and restored for use and enjoyment by anyone who wants to contemplate its beauty.