CASA EN LA GLORIETA
---
Los Jardines de la Glorieta son uno de los parques más emblemáticos de Valencia. Lindan con los Jardines del Parterre, iniciándose ambos en 1812, durante la ocupación napoleónica, por encargo del general francés Suchet. Destacan sobre todo sus imponentes Ficus.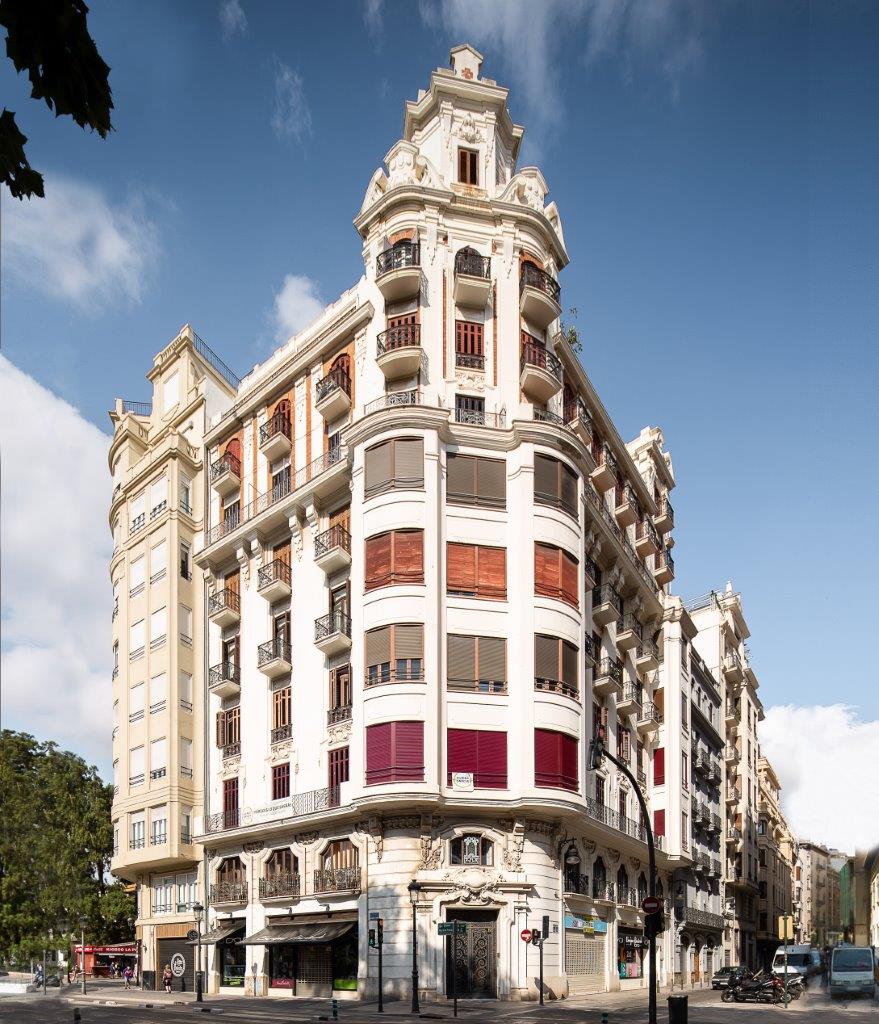 Este proyecto supuso para MURAD GARCIA ESTUDIO un gran reto, al ejecutar la reforma integral de una vivienda en un histórico edificio de la ciudad, situado justo enfrente de la emblemática sede del Banco de Valencia y delante de los Jardines de la Glorieta. Se terminó en 1931, según proyecto del afamado arquitecto Javier Goerlich, cuya Fundación expone en sus redes sociales una magnífica perspectiva y fotografías de la época, así como diversos planos del edificio.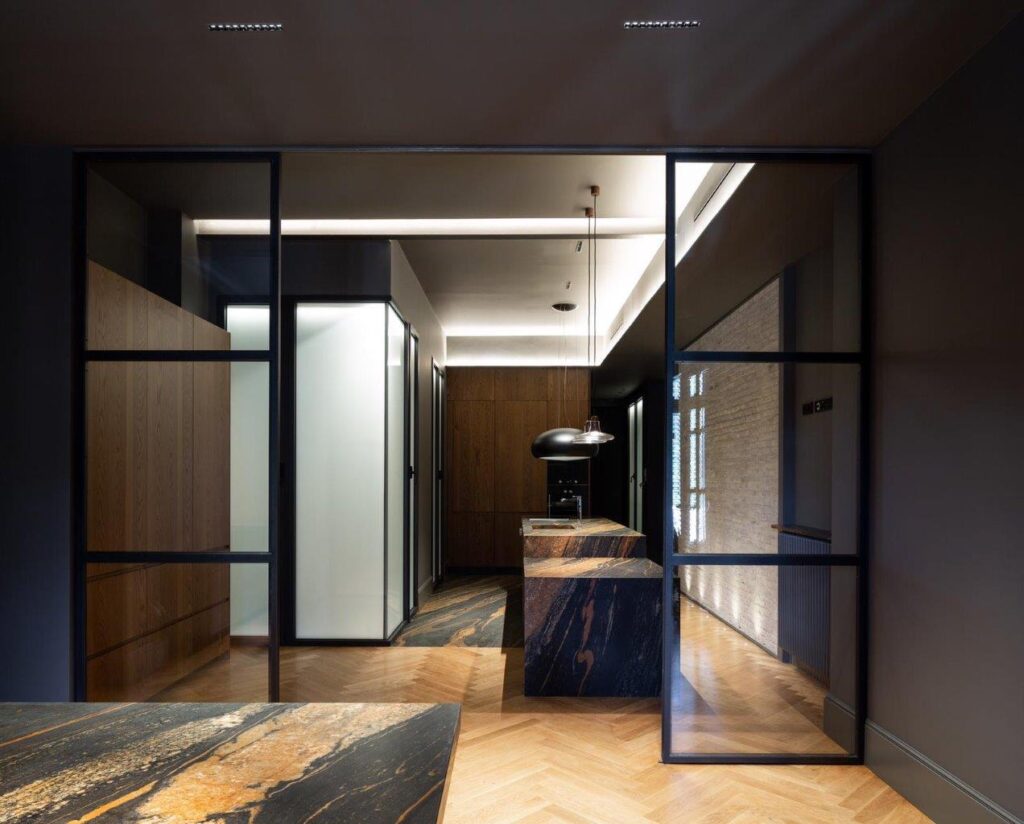 Tanto la nueva distribución como los acabados conviven con la estructura y construcción originales, cuidando al máximo el detalle y atendiendo a la vez de forma personalizada las necesidades de sus propietarios. El uso de materiales exquisitos y con carácter permiten texturas que aportan riqueza espacial a cada estancia.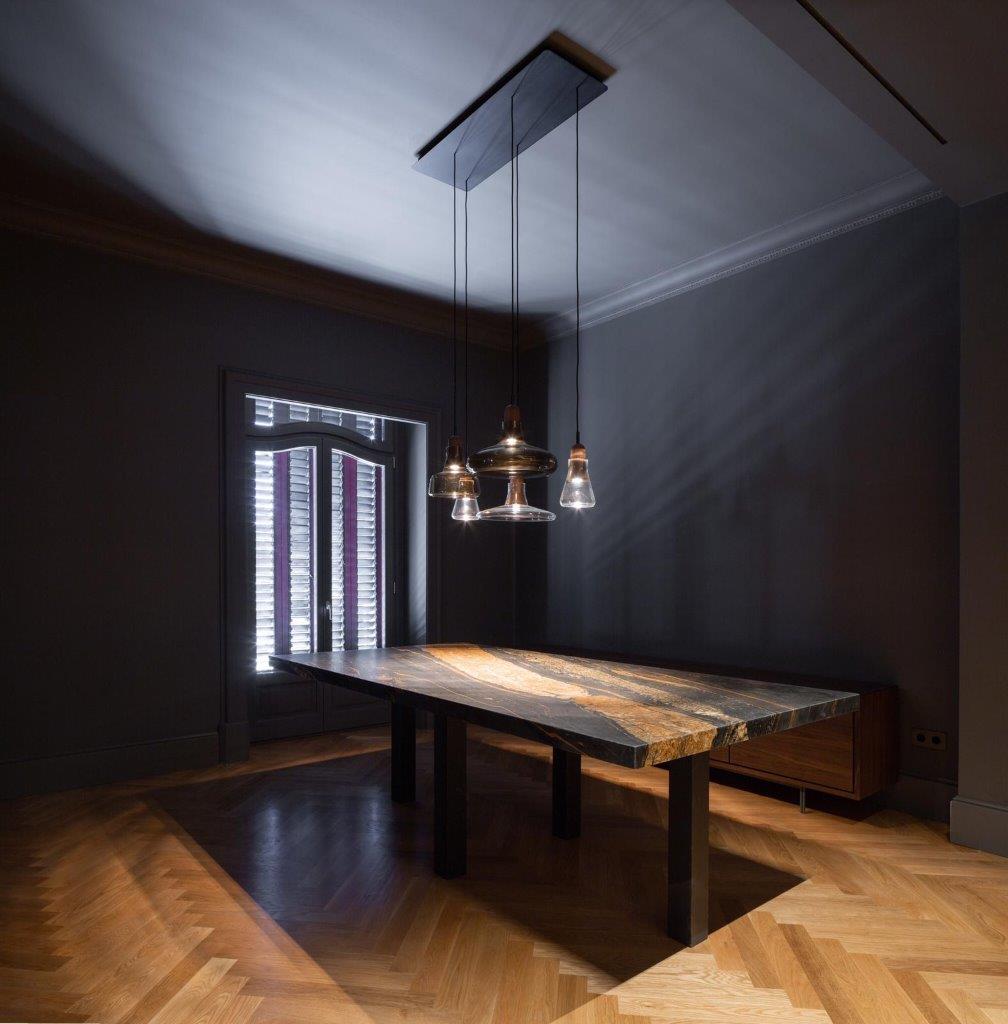 La circulación es perimetral. Además de poner en valor las conexiones interiores, provoca ricas vistas cruzadas y atractivos fondos de perspectiva. Las maderas y los mármoles son el leitmotiv que dan equilibrio formal al conjunto, cohabitando modernidad y tradición en todas las estancias y circulaciones, generando la esencia de un lugar para disfrutar.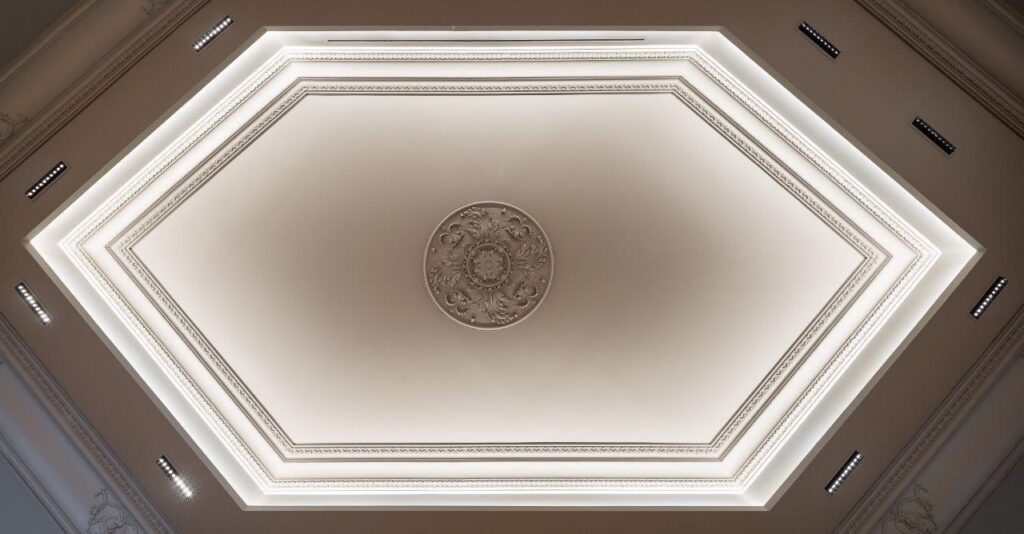 En las salas nobles se han rescatado las tallas originales, iluminándolas en contraste con los tonos grisáceos de los paramentos verticales, creando un ambiente que aporta una cálida serenidad tanto a sus moradores como a los posibles visitantes.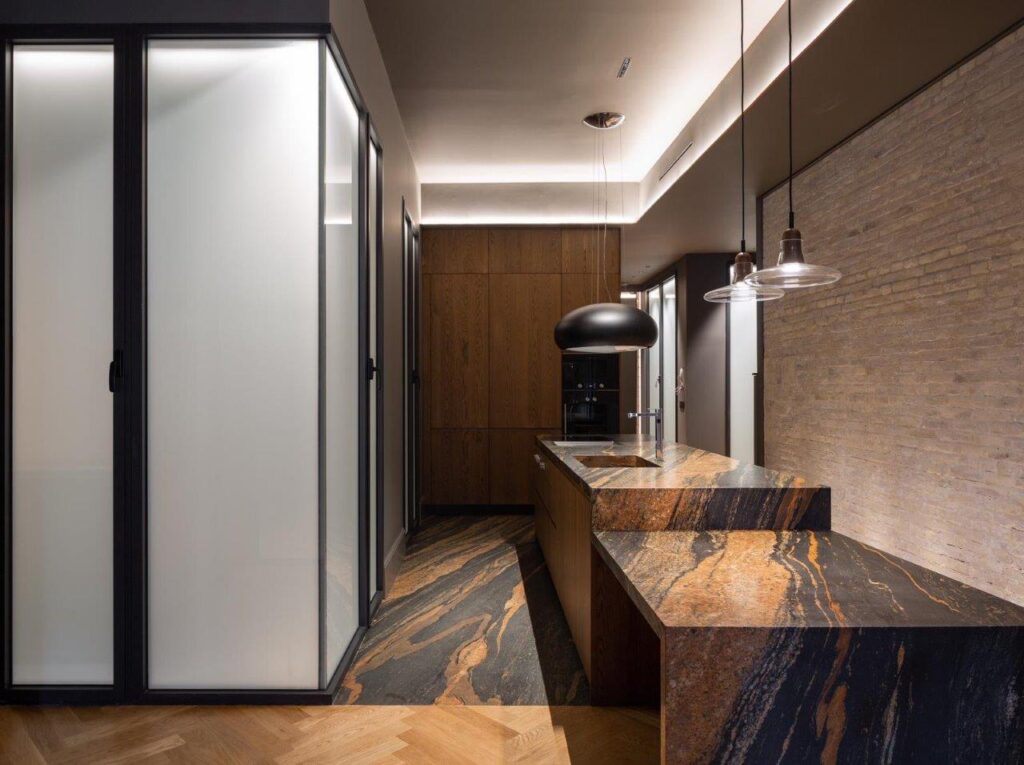 En la cocina, las vetas de color ocre sobre el fondo marrón del mármol combinan con el zigzagueo de la madera de roble que recubre tanto el suelo en espiga como los frentes de armariadas, acompañado de la calma expresiva de la cara vista del ladrillo antiguo, todo ello enfatizado por la luz natural del cubo acristalado del patio y los leds lineales del techo.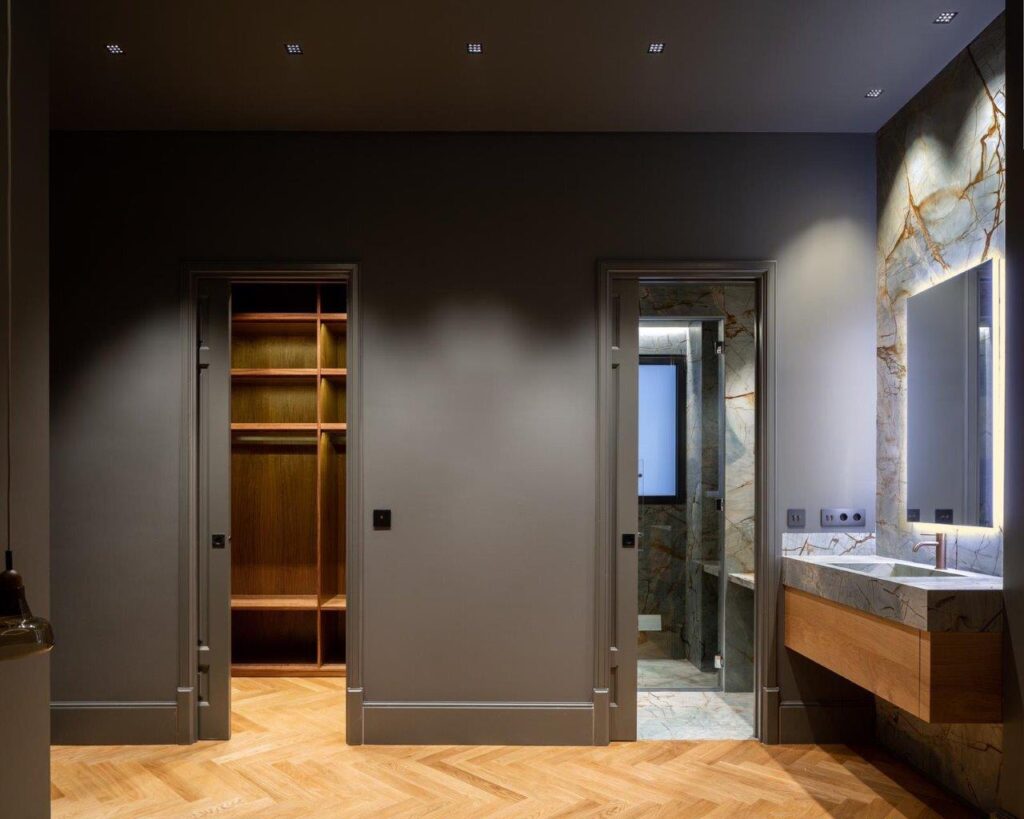 Finalmente, arquitectura e interiores se funden en un todo.
HOUSE IN 'GLORIETA GARDENS'
The Glorieta Gardens are one of the most emblematic parks in Valencia. They are together 'Parterre Gardens', both beginning in 1812, during the Napoleonic occupation, commissioned by the French General Suchet. Its great Ficus are spectacular.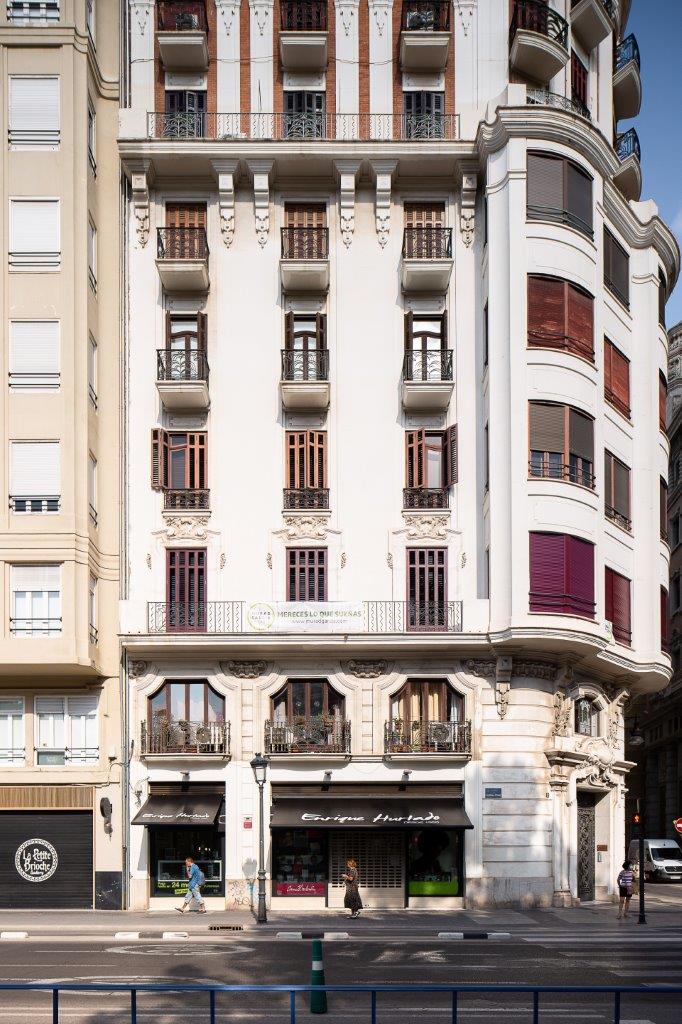 This project was a great challenge for MURAD GARCIA ESTUDIO. Executing the full reform of a house in a historic building in the city, located in front of the 'Banco de Valencia' old headquarters, and in front of the 'Jardines de la Glorieta'. It was completed in 1931, according to a project by the famous architect Javier Goerlich, whose Foundation exhibits on its social networks a magnificent perspective and photographs of the time, as well as various plans of the building.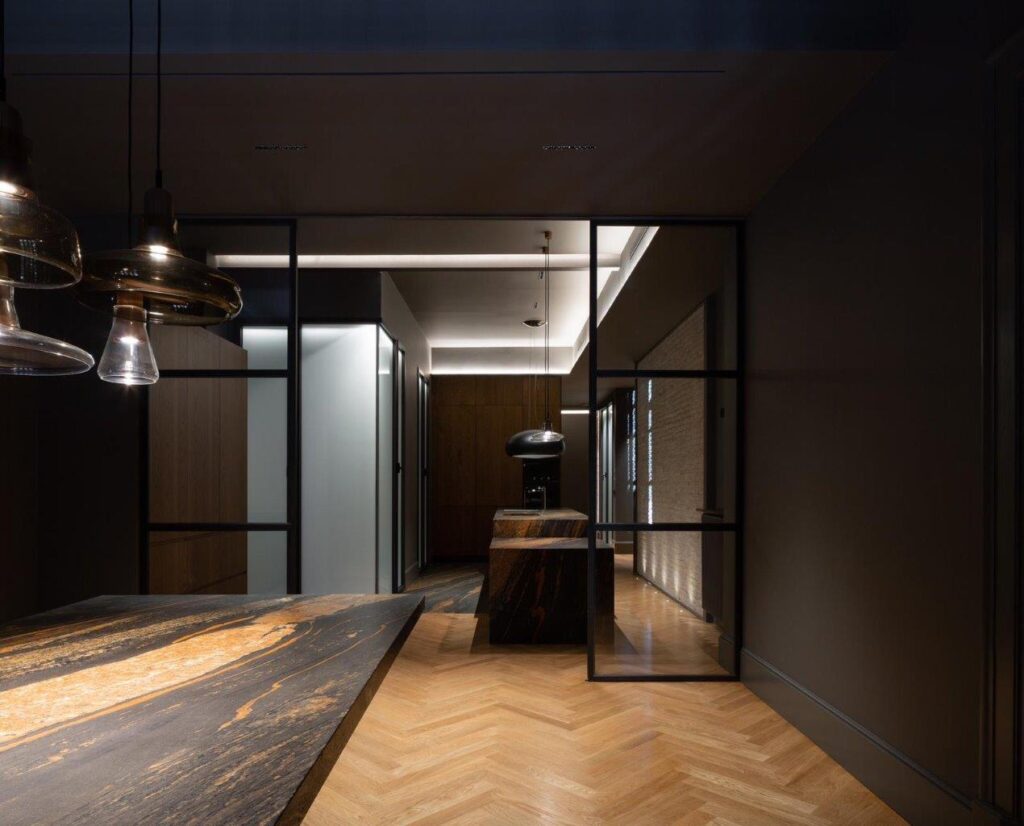 Both the new distribution and the interior design coexist with the original structure and construction, taking maximum care of the detail and, at the same time, attending to the needs of its owners in a personalized way. The use of exquisite materials allows textures that provide spatial richness to each room.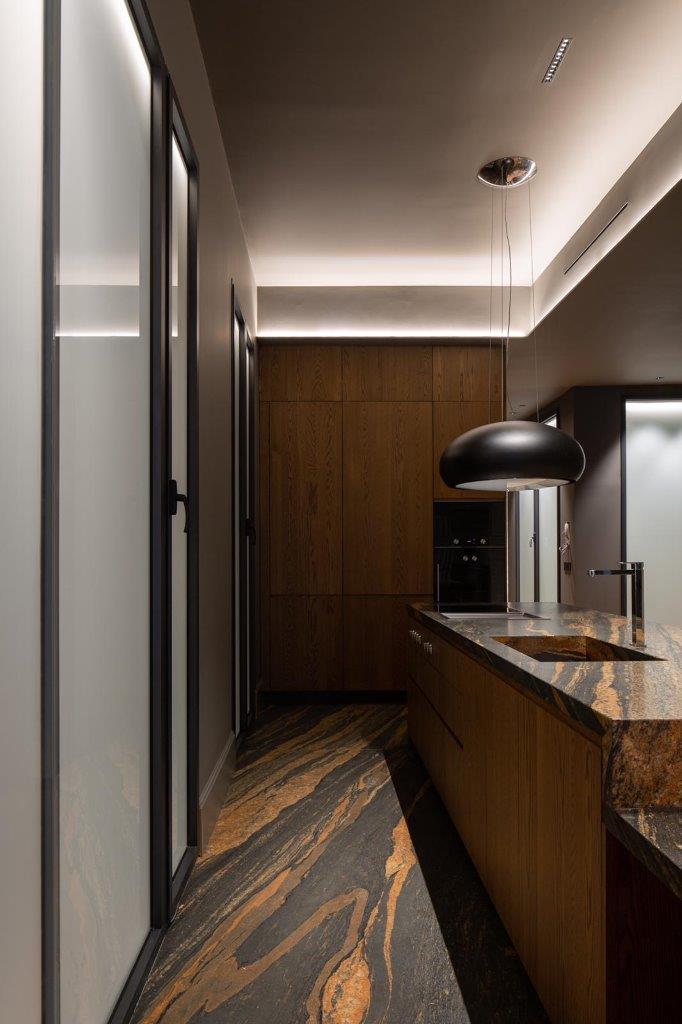 The circulation is perimetrical. In addition to enhance interior connections, it riches cross views and attractive perspective backgrounds. Wood and marble are the leitmotiv that give formal balance to all, coexisting modernity and tradition in all the spaces, generating the essence of a place to enjoy.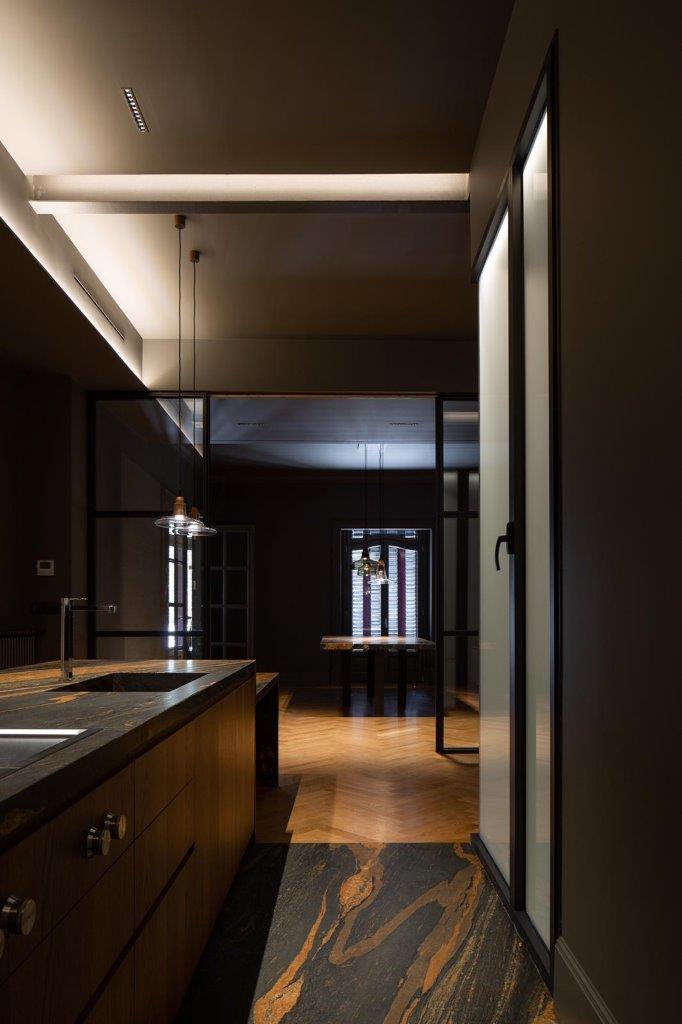 In the noble rooms, the original carvings have been rescued, illuminating them, in contrast with the grey tones of the vertical walls, creating an environment that offers a warm serenity to its inhabitants and to potential visitors.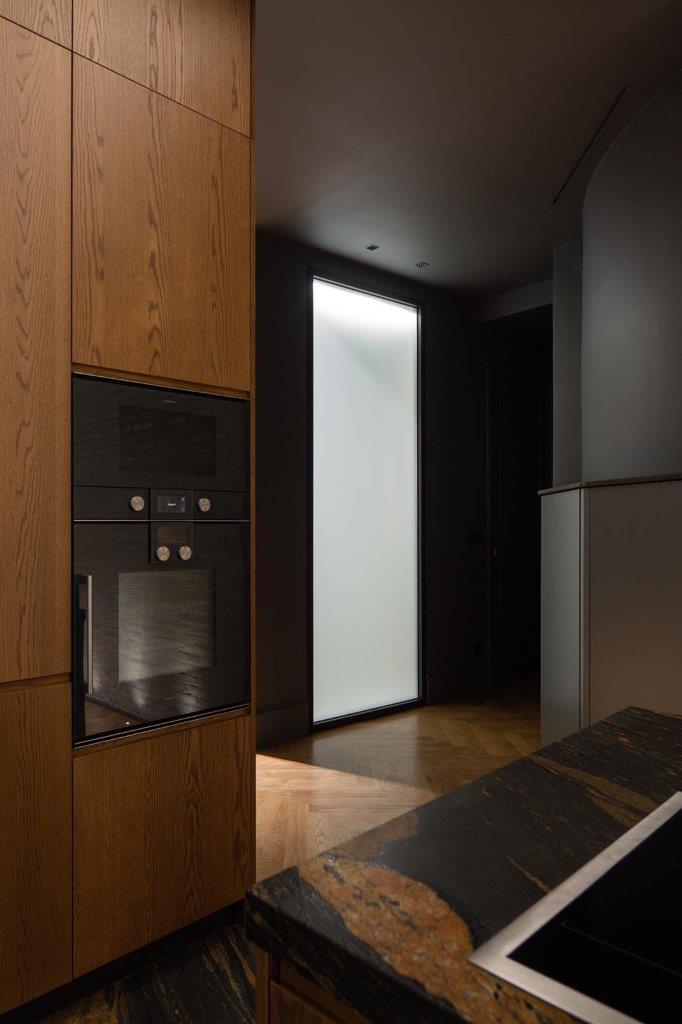 In the kitchen, the ochre colour veins over the brown background of the marble combine with the zigzag of the oak wood that covers the floor and the cabinet fronts, accompanied by the expressive calm of the exposed face of the old brick. All of this emphasized by the natural light of the glass cube of the patio and the linear LEDs of the ceiling.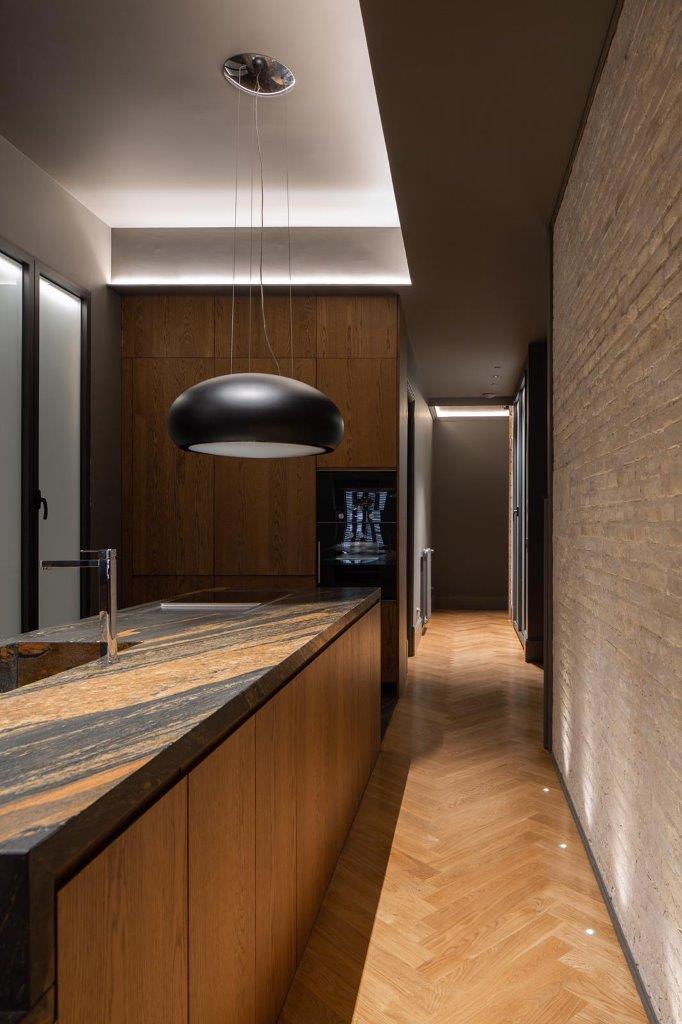 At last, architecture and interior spaces are closely linked.